Self Heating Cans Hypothesis Statement
Dive Brief:
Walter Robb, the former co-CEO of Whole Foods Market, has invested in HeatGenie, an Austin, Texas-based company that has developed a method of heating canned beverages in two minutes by simply twisting the lid. He also agreed to join the board. According to a company statement, his involvement signals the company's readiness to finalize product development and enter the market in the ready-to-drink beverage category sometime next year.

HeatGenie President and CEO Mark Turner — who called Robb's investment "significant" — told Food Dive that the former Whole Foods top executive has "great perspective" and that his involvement will open some doors and help move things along for the technological innovation.

"Walter brings great experience in both CPG and retail and we are honored to have him join our team as we shift from concept to commercialization in the marketplace," Turner said in a company statement. Meanwhile, Robb said HeatGenie's product is "a win-win for both the beverage category and consumers everywhere who will be able to enjoy a hot can of coffee, tea, soup or sake whenever and wherever they please."
Dive Insight:
This is the second such announcement in a week involving Robb, who recently became an investor and board member with a Colorado-based startup called FoodMaven that sells surplus food via an online marketplace. He seems to be making good use of the $10-million severance payment he received after stepping down as co-CEO of Whole Foods at the end of 2016.
Turner called Robb "super, super smart," and said that he has a good sense of where things are headed in the CPG and beverage categories after the years he spent with Whole Foods. "We're in a shift right now, and I think he sees where it's going," Turner told Food Dive.
HeatGenie has been working on the self-heating beverage technology for about eight years, trying to get the size down so it doesn't take up much container space, Turner said. The mechanism was developed by Brendan Coffey, a chemical engineer who had worked in the battery industry.
"He was thinking one day whether it would apply for CPG foods and beverages," Turner told Food Dive. "He's now our CPO."
HeatGenie doesn't have any real competition now, he said, because earlier self-heating beverage devices took up too much space in the container, had a high failure rate and could never really scale. Nestle developed a self-heating product called Nescafe Hot When You Want in 2001, but abandoned the idea a year later. Nestle found after test marketing that the can didn't get hot enough during cold weather and consumers were disappointed to find 7 ounces of coffee inside an 11-ounce container.
"All of them have kind of run their course," Turner said. "HeatGenie's approach is radically different. We have solid-state technology that only takes up about 10% of the package. It's a good consumer experience and very reliable." He noted that consumers have always loved the idea of having a self-heating beverage container and that brands know it.
HeatGenie is now talking to a number of large global brands and plans to license the technology to them, Turner explained. He said the self-heating technology could add $1 to $1.50 per can at retail but that people realize they would be paying a premium for convenience and portability.
Having a can of coffee, tea or other beverage that heats up when the consumer wants could be a huge development for the CPG industry. As shoppers eat and drink more while on the run, a device that can warm a beverage, and comes contained in a convenient, portable can, could be popular, especially among millennials.
It also could have huge impact on Starbucks, McDonald's and c-stores such as 7-Eleven, among others, that are known for their teas and coffees that people grab on their way to work or for on the road. A new competitor that negates the need to occasionally visit one of those locations could eat into sales. It certainly doesn't hurt to have Robb in the fold, given his overall knowledge of the food and beverage industry and insight into what other competitors might be doing.
The one downside, however, could be the price. While not prohibitively expensive, the possibility of paying an extra $1.50 on top of whatever the product costs may be too much for some people who are used to spending $1.60 for a medium coffee at 7-Eleven. The product seems to have a future, but whether sales heat up once it hits the market is far from certain.
The heater element fits into the lid of an aluminum can and when a consumer twists the lid, it activates the mechanism to heat up the contents in about two minutes. Coffee, tea, hot chocolate, sake, soups, bone broths and even water are potential candidates for the technology, Turner said. The HeatGenie technology is recyclable both before and after activation, he added.
Turner said the product is in the final stages of development and will be showing up in the CPG beverage market next year. "We'll be making some announcements with names you'll recognize in 2018," he told Food Navigator-USA.
The company has done some focus groups to gauge response and expects that U.S. consumers will have a bit of an adjustment getting used to self-heating cans.
"In Asia, primarily in Japan, they've been drinking hot coffee and tea out of cans for 20 years. They have vending machines plugged in 24/7. Behaviorally, it's as normal as anything to them," he said. "With the U.S., it's been nice that people have been used to drinking from bottles and cans, but there will be bit of a behavioral change."
Millennials are a core target for the company because of the premium they place on innovation and premiumization, Turner added. "They have spending power, the technology is done and going to market, and we've got people like Walter and others on our team. We're going to accelerate that much more."
A CAMPER'S DREAM, the idea of a self-heating soup can doesn't seem too radical today.
(Although Gizmag had a feature on them just last year.)
But back in the 1940s, towards the end of the Second World War, the innovation was a boon to frontline soldiers.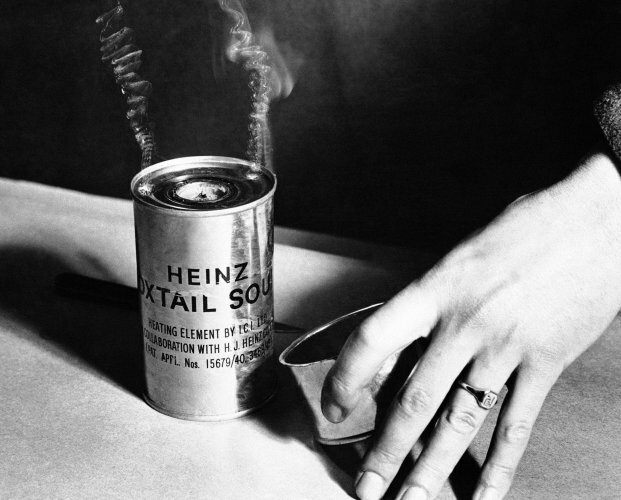 In 1944, the British, US and Canadian armies started giving the product to their soldiers. The soup came in a variety of flavours, including tomato, oxtail, pea and mock turtle.
The ration was developed by Heinz and ICI so troops could take a hot meal. Remember, they weren't able to light fires for cooking.
The US Army's first order amounted to one million cans of the stuff.
These photocall images, taken on this weekend 70 years ago, featured Dr William Clayton, adviser Ministry of Food, who backed the idea.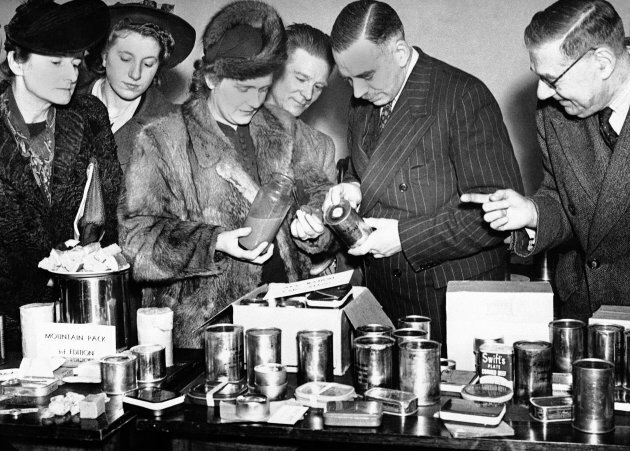 The soup was ready in just four minutes because of a heating element which ran through the centre of the can. It was lit by a fuse.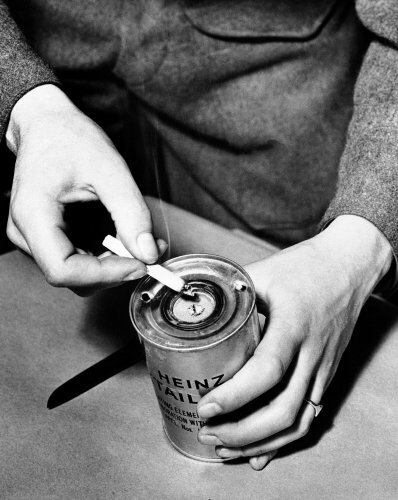 The instructions told soldiers to use a lit cigarette for the job. The fuse smokes until it burns to the level of the heating element.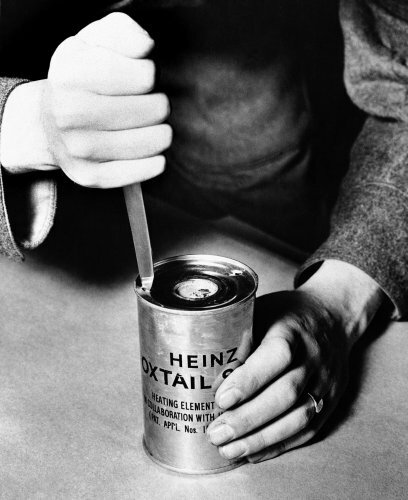 Before the fuse was lit, the lid of the can had to be pierced.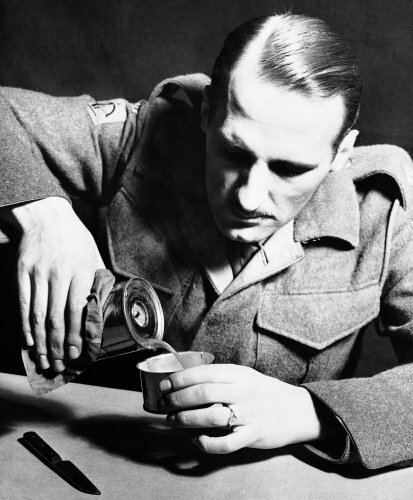 According to those who returned home after the War, soldiers fighting in colder climates often tucked the hot cans inside their jackets as substitutes for hot-water bottles. The can itself was too hot to touch without a cloth around it.
When it first released the product in March 1944, the British Ministry of Food did not give out details of the precise nature of the heating element for security reasons.
The BBC's WW2 People's War Archive contains a story from Lawrence McHugh about the new invention. He told a volunteer that:
We were waiting off the coast of Southern England on June the 5th 1944 and we were quite tense tired and worried. The officers said we'd get some food out and we'd try this – something we haven't seen before – self heating soup. The only flavour, I think, was Tomato. In the top of the metal tin was a little circle and it said ignite using a cigarette – but before this there were two little arrows on the side of the can where it said punch here and here.
We all punched a hole in both sides, apart from one man who punched the holes in the side of the can. The cans were really hot as the fuse went all the way down to the bottom. This man had put his soup to one side on a ledge which was level with his head.
We all had cans with the soup coming up from the top but because he'd punched holes in the side of his can the soup came out at force of the sides of the can – straight into his ears!! He had tomato soup all down his ears but unfortunately for him he became our first casualty with a badly scalded ear.
The whole ship was quickly laughing and the story spread down the ship like wildfire. Other ships which were part of the flotilla quickly heard the laughter and were asking what we laughing at and the story quickly spread down the whole flotilla. It was a tension relieving moment in the waiting.
Another soldier, Raymond Eaglen, remembers being posted in Normandy where the cans often exploded, showering hot soup on "anyone within range".
But they were often very welcome comforts. Ted Dann recalls one night outside Bremen.
There were a few incidents encountered after crossing the Rhine, but the war was rapidly coming to the end, I recall we were engaged in combat outside Bremen, there was a lull in the activity, we were all feeling a bit tired and quite hungry, five of us in this tank waiting to go on or pull back, longing for something to eat, I suddenly remembered the five tins of self heating cans of soup we carried on board. I mentioned to the corporal in charge we had these soups, he said they were only for emergency use, I reminded him we had not eaten for hours and surely this is an emergency!
"There was silence for a few minutes, then he relented and said "get them out then".

The soups were in the standard size tin, with an I.C.I. element in the centre, the idea was you pierced the tin, pulled on the central flap which ignited the heating unit, and within a minute or so the soup was piping hot. They were delicious.
We made a mental note to get them replaced sometime, but we never did, in fact we never saw these items again,they may have been withdrawn, they could have been a danger if you forgot to pierce the tin, going up like a small bomb no doubt, perhaps they were just on trial, anyone know of these? They were certainly most welcome that night.
WW2 People's War is an online archive of wartime memories contributed by members of the public and gathered by the BBC. The archive can be found at bbc.co.uk/ww2peopleswar.
All images: AP/Press Association Images
'When are the other boys coming?' WWI posters try to recruit Irish friends
From the photo archives: Easter Sunday through the 20th century